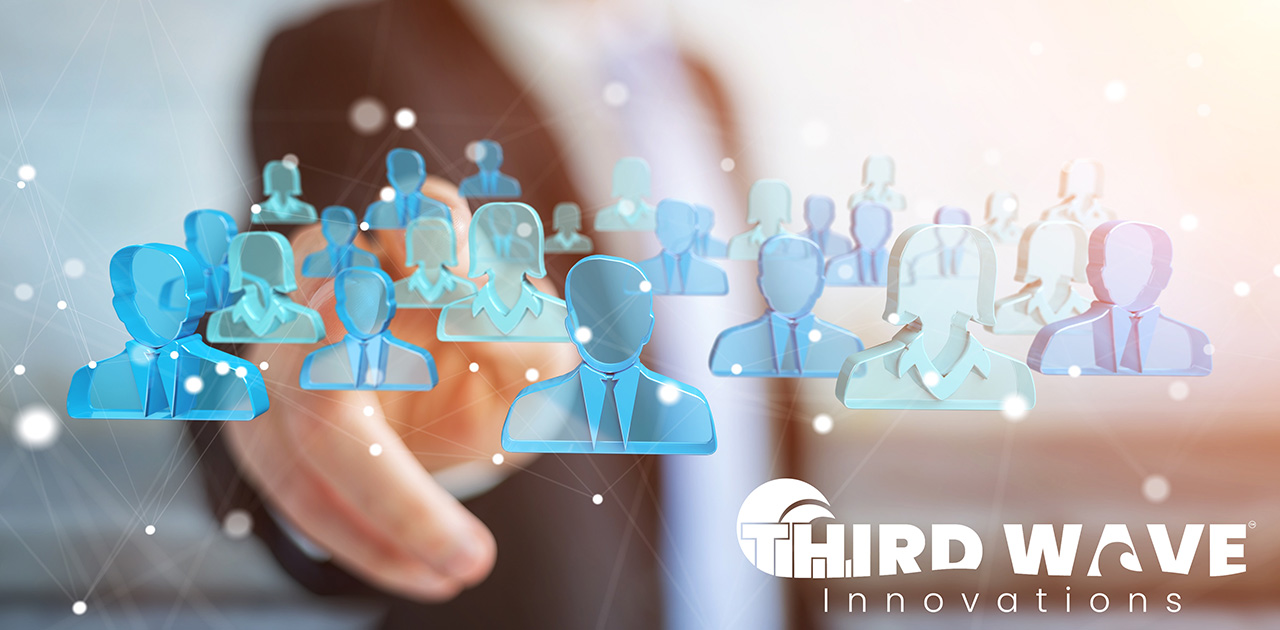 THIRD WAVE INNOVATIONS™ EXPANDS LEADERSHIP TEAM FORTIFYING CYBERSECURITY EXPERTISE
Executive Leadership Expansion Deepens Cybersecurity Expertise and Highlights Dedication to Customer-Centric Growth
Frisco, TX – September 7, 2023 – Third Wave Innovations™, an emerging leader in cybersecurity and risk assurance solutions, and inventors of C4 Intelligence Platform™, is pleased to announce the strategic appointments of Patrick Hayes as Chief Product Officer and Mark Abbott as Chief Information Security Officer.
Randal Asay, Chief Executive Officer for Third Wave Innovations stated, "I am thrilled and deeply humbled to welcome Patrick and Mark to our team. I firmly believe that great people can achieve great things, and with Patrick and Mark's wealth of experience, alongside our talented team, we're primed to take Third Wave to new heights. These hires underscore our unwavering dedication to customer-centric growth and innovation, as we tackle the ever-evolving challenges of the digital landscape and lead the charge in meeting our customers' most demanding cybersecurity requirements.
Patrick Hayes brings a wealth of expertise from his tenure as Vice President, Cloud Platform at Arctic Wolf Networks. During his time there, Hayes was responsible for the product strategy and roadmap for their cloud platform, overseeing the processing of billions of security events daily for a diverse global clientele. His remarkable background encompasses leadership roles in enterprise security architecture, as well as the development and successful launch of multiple Software as a Service (SaaS) cybersecurity platforms. Prior to his tenure at Arctic Wolf, Hayes held pivotal roles such as Senior Vice President of Security Advisory at Hitachi Systems/Seccuris, as well as, Chief Strategy Officer, and CISO with leading cybersecurity firms.
Hayes reflected on his appointment, noting, "I am excited to be joining a deeply experienced team that shares my passion for solving enterprise-level cybersecurity challenges. Leading the growth of the C4 Intelligence Platform holds the opportunity for meaningful innovation that spans enterprise risk, operational health and cybersecurity resiliency."
Mark Abbott who assumes the role of Chief Information Security Officer, arrives at Third Wave Innovations following his role as Vice President of IT Security Operations and Architecture at Aimbridge Hospitality. Mark has tremendous experience in assessing & implementing technology to support companies in our rapidly changing technology environments, pulling from 25 years building secure technology stacks based on the needs of the business within diverse industries including hospitality, retail and restaurants. On top of that, Mark has spent the last 15 years building and connecting technologies in a secure manner to protect the sensitive data and critical infrastructure utilizing a security first design model.
Abbott commented, "Joining Third Wave Innovations presents an exciting opportunity to contribute to the advancement of cutting-edge cybersecurity solutions. My focus has always been on building secure technology stacks that align with the specific needs of the business, all while prioritizing security. I'm looking forward to bringing this experience to Third Wave's already stellar team."
Hayes and Abbott join an extremely experienced and accomplished executive team at Third Wave Innovations including:
CEO & Founder, Randal Asay, has over 20 years of Executive Management experience in the Retail, Government, and Healthcare industries. Leading Third Wave Innovations through immense growth since 2017, Asay has been at the center of the company's strategy and passion for building strong customer relationships. Before founding Third Wave Innovations, Asay, a US Airforce Veteran, served in high profile, global roles with responsibility for establishing strategy and implementation of communications, security mechanisms and measures to protect highly sensitive and critical data and operations for the likes of Walmart, Catbird and US Airforce.
COO, John Woods, brings over 25 years of information technology, security leadership, and risk management experience. Woods's earlier executive roles include CISO roles in the healthcare technology sector, HIPAA Privacy and Security officer, Vice President of Information Security, Vice President of Infrastructure, and Director of IT and Information Security for PDX, Inc., eRx Network, and Change Healthcare.
CTO, Shane Thorson, an experienced technology leader with a demonstrated history of accomplishments spanning communications, operations and cybersecurity in the government, healthcare, and financial services industries. Thorson is the architect behind the C4 Intelligence Platform and leads the ongoing engineering and development. Prior to Third Wave, Thorson, a US Airforce Veteran, held senior engineering and architecture roles with Health Equity, Wells Fargo, Catbird, Arrowpoint and the US Airforce.
*About Third Wave Innovations™*
Third Wave Innovations is a privately owned corporation founded on decades of Fortune 500 experience, offering a full spectrum of cybersecurity safeguards and IT services. Our services combine compliance standards expertise with cutting-edge technology to identify risks, prioritize remediation, and ensure organizations are both secure and compliant. At the core, we are a family of employees, partners, and clients, using technology to create a more secure world. We are focused on engineering solutions to meet unique client needs and do so in a rigidly flexible manner.
For media inquiries, please contact:
Crystal Gettemy Jones
The Gettemy Group