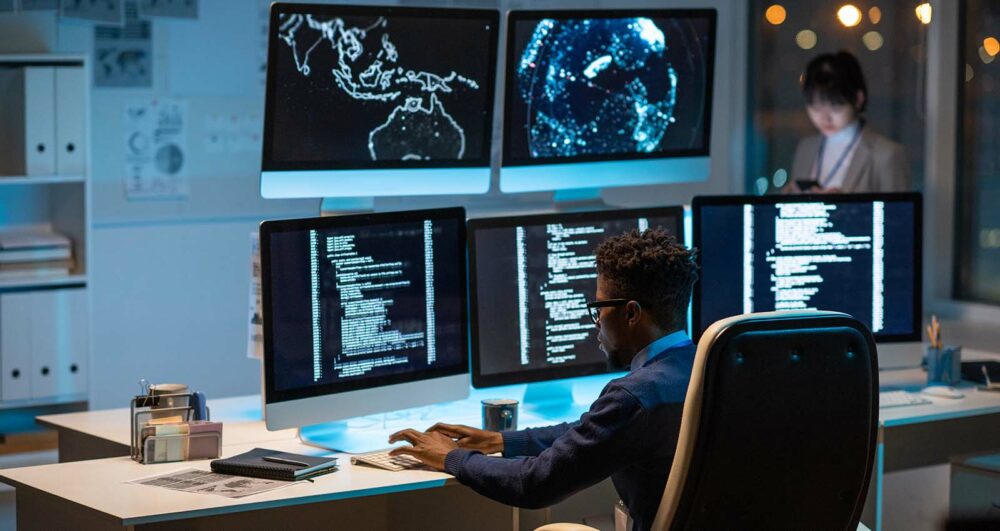 Talk to anyone within the IT or digital space and you'll quickly learn that cyber threats are one of the single-biggest dangers companies face in 2022, 2023, and beyond. From ransomware to data breaches to IT outages, there's a lot for businesses to fear.
As a small business owner, a failure to account for these threats could lead to serious long-term issues that threaten the integrity of your business.
According to the 2022 Allianz Risk Barometer, which considers all risks across global supply chains, cyber incidents (44 percent) are the number one threat for just the second time in the survey's history. That puts cyber incidents ahead of business interruptions (42 percent), natural catastrophes (25 percent), pandemic outbreaks (22 percent), and climate change (17 percent).
It's estimated that cyber-criminals are capable of penetrating 93 percent of company networks. This means 9 out of 10 companies are vulnerable to an external hacker breaching their network perimeter and gaining access to network resources and data. And this isn't a secret—cyber-criminals know it. In 2021, businesses experienced 50 percent more cyber-attack attempts per week. That number will likely grow moving forward.
But the problem goes even deeper. In addition to being vulnerable, most companies do not have a plan for what to do when they're actually attacked. Research shows that 63 percent of C-level executives and 67 percent of small businesses in the United States have no incident response plan in place. In other words, they don't know what to do when they're attacked, which can prolong the damage, increase the costs, and threaten to push some companies out of business.
If you want to secure your business for the future, you need an incident response plan. Not only that, but it needs to be strategically optimized to fit your company's specific risks, needs, and circumstances. In this article, we'll walk through the basics of how to build out your own incident response plan.
What Is an Incident Response Plan?
An incident response plan is essentially a set of clear instructions and rules that help your IT staff and team detect, respond to, and recover from network security incidents. A response plan outlines the proactive steps to be taken to address problems like data loss, cyber-crime, or service outages that threaten your company's network stability and productivity.
An incident response plan is usually supported by an incident recovery team. The team is responsible for executing the steps as outlined in the plan. While many teams invest ample resources into cybersecurity and threat prevention, the reality is that you can never be 100 percent secure. An incident response plan helps you plan for these situations.
How To Build a Proactive Incident Response Plan
Every organization and team should have a unique incident response plan that's tailored to their specific needs and circumstances. Having said that, here are several general tips for building a proactive plan:
1.    Outline Critical Components
What are the critical components of your network? These components need to be replicated and safely backed up in a remote location. By prioritizing these backups, you can recover your network much faster when an incident does occur.
2.    Identify Single Points of Failure
It's important that you identify any single points of failure that exist within your organization. These are the most likely culprits for an attack. By addressing them and establishing redundancies, you can develop a response plan that's more likely to be effective.
3.    Develop a Continuity Plan
There must be a business continuity plan in place to address how your team will continue to operate in the face of an IT threat, cyber attack, or other incidents. You should also strengthen your tech infrastructure to support communication during this time (virtual private networks and secure web gateways can help with this).
4.    Draw Up an Incident Response Plan
Once you have all of the foundational elements in place, you can draw up a formal incident response plan. This should include details like:
Roles and responsibilities of each individual team member
A detailed business continuity plan
Summary of the technology, tools, and resources to be used
List of critical network and data recovery processes
Expectations and rules for internal and external communications
5.    Train Your Team
Your incident response plan is only as good as the individuals executing it. If you want your response plan to work as intended, you need to train your staff on how to respond swiftly and accurately. Total cooperation and practice can reduce the amount of time that takes place between an incident occurring and being resolved. This saves time, preserves reputation, and protects your company's bottom line.
Make Cybersecurity a Priority With Third Wave Innovations
At Third Wave Innovations, we offer advanced cybersecurity services that are designed to help businesses prevent and/or respond to advanced cyber-crime. We believe that cybersecurity should always be a priority and will help you leverage our full spectrum of security safeguards and services for sectors from hospitality to government contractors.
Want to learn more about a partnership? Contact us today—we'd be happy to chat!