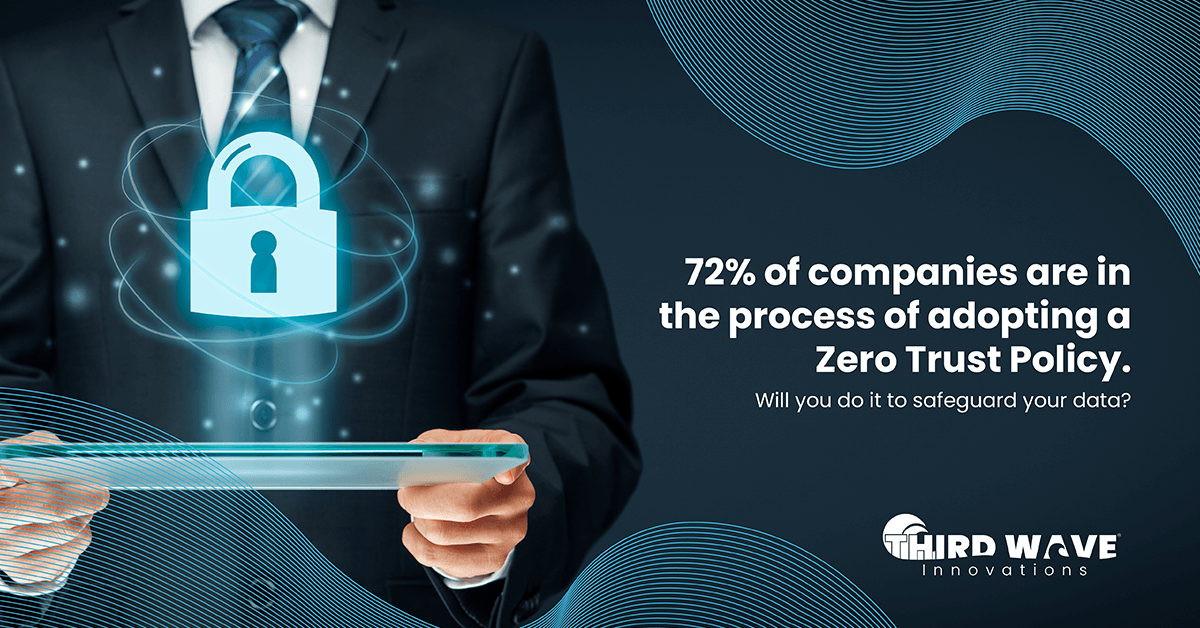 What to Include in Your Zero-Trust Policy
Keep your business bubble protected. Cyber antagonists are waiting for a small opening.
Organizations everywhere are scurrying to install technology that enforces Zero-Trust Policy principles. It's the highly popularized solution to ensure that a company has the utmost control over user identities, device security, and access controls on the front and back end.
Zero Trust helps conceptualize cybersecurity and has a stronger preventative framework that requires all users to be authenticated and continuously validated for security configuration before accessing certain data or applications.
Due to our society's climactic move towards digital, there is an increased risk of network penetration with remote workers using Wi-Fi in coffee shops or hybrid cloud environments that make it harder to secure the flow of data and authentication.
Over 80% of all attacks involve credentials use or misuse in the network. This makes it crucial to control access to all corporate resources like applications, devices, printers, and security systems.
The risks without having it are many. The benefits of having it are also many. Here are three of the most notable reasons you need to consider implementing a Zero-Trust policy.
The risks without having it are many. The benefits of having it are also many. Here are three of the most notable reasons you need to consider implementing a Zero-Trust policy.
Improved Security Measures
Zero trust requires verified identity and device location. Only authorized users could access any corporate resources and only from devices that they have previously verified (typically like a company-issued work laptop). External threats or hackers could only break the shield if the security defense system is vulnerable and has a weak foundation.
Stronger Control Over Digital Infrastructure
Companies deploy specific segmentation, policy restrictions, and endpoints based on the organization's discretion. Common techniques include identity verification, behavioral analysis, micro-segmentation, and endpoint security.
Increased Visibility on Operations
90% of organizations state that advancing Zero Trust represents one of their top three IT and security priorities for the sake of having full transparency in their operations. Businesses want to see their network traffic. With this policy, any aberrant behavior automatically prompts the system to enact rounds of analysis for malicious activity thanks to the continuous authentication and application monitoring function.
Core Principles of a Zero Trust Policy
Users and internal accounts must be authenticated, authorized, and verified.
Each connection request is only granted access to resources cleared by the security policy the organization has in place.
There is no free access. Access is denied as default and administrators need to act out certain security measures to define specific permissions for each new authorized user.
Organizations have real-time visibility into user credentials and can monitor all internal (harder to detect) and external (very sensitive to detection) threats.
There is an ingrained capability to classify all assets on the cloud for decision-makers to be able to enable the right protection and access controls.
Restrictions on the possibility of data exfiltration, which might be subtle at first and hard to spot because it frequently resembles an employee or other reliable source. The added monitoring, however, protects businesses from this grievous hack.
Implementing Zero Trust Architecture may seem initially extensive, but with the help of a cybersecurity provider, businesses witness a significant drop in data leaks and compromised networks. Our cutting-edge technology and expertly trained team are sure to help businesses identify risks before they become breaches and ensure compliance with company and government policies. Get in touch with us today.